Welcome to a new rebrand and a new era for the company.
Three years ago we officially renamed Moment Chicago as Grand Studio and became a new company. We had little time then to reflect inward on establishing our mission and values as a new brand, so we very quickly pulled together a new logo and brand guidelines. From that point onward, we were off to the races solving some really tough design problems for our clients.
Throughout this time, we have come to sincerely appreciate our company culture as the key driver for making our studio a wonderful place to work, and also what differentiates us as excellent design partners for our clients.
Today I am excited to introduce a new chapter for Grand Studio, one that leverages the best parts of our company history and looks forward to embracing the unique culture we want to share with everyone. Our culture is one of curiosity, support, transparency, and collaboration to find the best solutions to design's hardest problems. It takes a team to move the needle forward for our clients and their end users. And we do all of that with a positive energy and a bit of fun as well!
APPROACH
Our process was an introspection of our core beliefs and values as a company
In the past few months, we embarked on a journey of rebranding Grand Studio to achieve better standardization across all of our project teams and to facilitate the next chapter in our company's future. While the name Grand Studio would remain, we sought to reassess our values as a company, change our styling from top to bottom, and refresh our website. Above all, it was a chance for our whole studio to reflect on how we wanted to evolve together as one culture moving forward.

We had help from a great Chicago design partner, PinPoint Collective, and they established the roadmap for helping to turn our introspection into tangible company values and branding directions. We are thankful to them for their guidance and design work to bring all the tangible elements of the rebrand to life!
MISSON
We are determined to change the world through design
Our mission is a reflection of the high level of support and guidance we offer to our clients: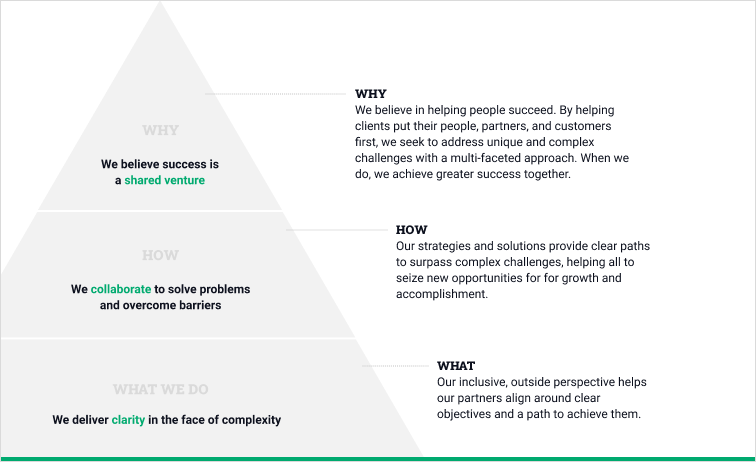 Grand Studio's mission:
We seek to help others create clear paths and tools for success with the guidance of design thinking.

To offer the broadest and best in design perspectives, we assemble many uniquely qualified minds around one shared goal: to turn complexity into clear opportunity and reimagine technology as a pathway toward making lives better.
We come across ambiguous strategy projects that we shepherd toward designed solutions, however getting there is a journey with our clients, using design thinking methodologies as our compass. Our role in that process is to create shared understanding between stakeholders, to build momentum toward problem solving through design artifacts, and to collaborate on a new vision for how technology can support business outcomes. We do not simply add a coating of UI design at the end of the process and call it a website or an app — we instead help our clients to confidently shape their strategy, validate through user research, and bridge those learnings to design concepts so that the end result (be it a website, app, service, conversational interface, you name it!) connects to desired outcomes for business, users, and technology alike. We are determined to embrace complexity in today's technology projects toward building sustained clarity for everyone involved.
VALUES
Our core values join us together
While our mission serves as a north star for everything we do at Grand Studio, our core values inspire us to act with purpose and integrity: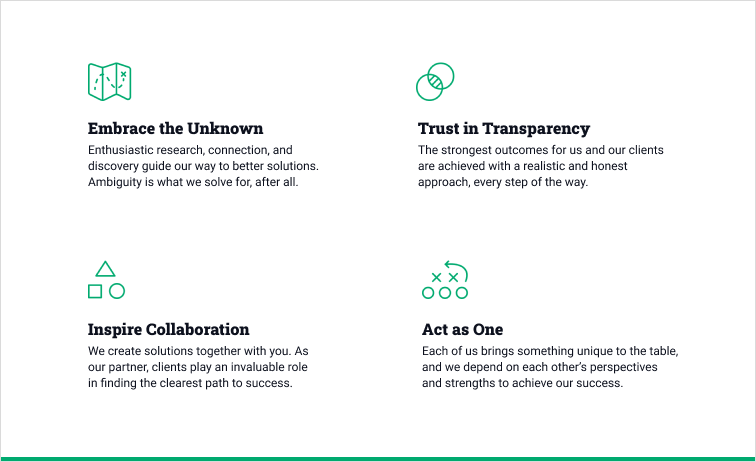 Grand Studio values are a unique reflection of our culture and what we bring to every project, how we conduct ourselves with each other and our clients to build success. When working with Grand Studio, we are all energized to bring our very best regardless of the transformational design challenges in front of us. We do our best to make collaboration an inclusive, enjoyable partnership.
LOGO
The new logo expresses a dynamic shift
Our logo has gone through a significant transformation: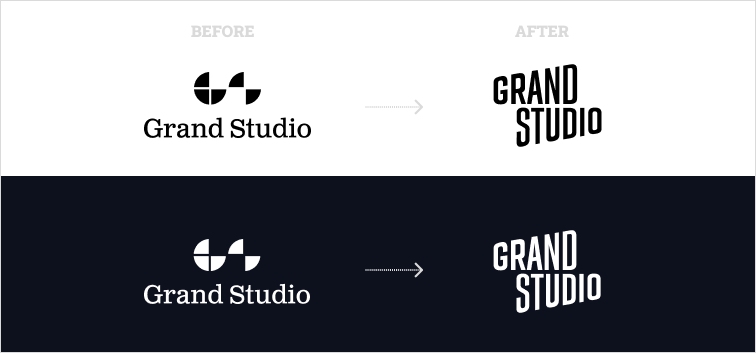 We are looking to rely solely on our wordmark and move from a more serious tone to a friendlier one. We believe this change brings a dynamic energy that is representative of our fast-paced culture and the personality we bring to projects. We consider ourselves to be professional, humble, and approachable in everything we do.
COLORS
Our color scheme reflects a mix of simplicity and delight
We've moved from a multicolor brand to a cleaner black and white with a touch of green accent: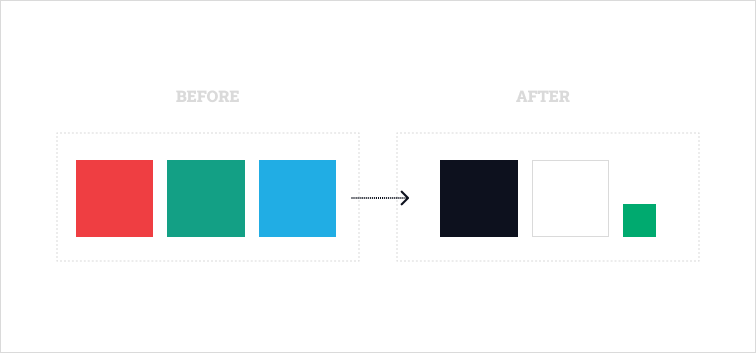 Green, or Jade to be exact, for us represents a culture of growth, nurturing, and collaboration. In determining what "felt like Grand Studio" to us, when we considered our core values — we kept coming back to the color green and nature as well as authenticity. Grand Studio teammates are supportive, caring, and poised to cultivate an environment of learning and growth in each other's careers as well as our clients' endeavors.
WEBSITE
A refreshed website brings it all together
Our new website is not only home to our unique culture, but a step toward our company's new future: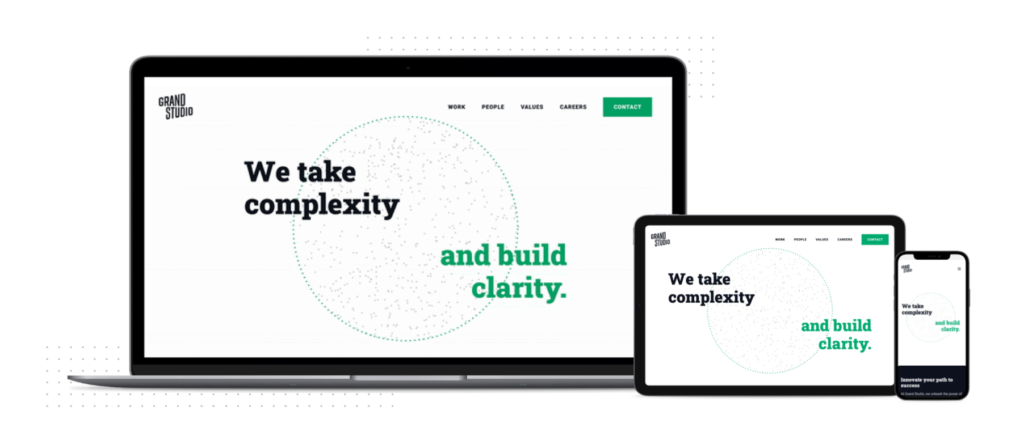 Our rebranding welcomes all clients new and existing as well as design candidates and industry professionals. It will be home to our project case studies (at least the ones we can publicly talk about!) and the learnings we can't wait to share with the industry. More importantly we believe it emphasizes our mission to embrace ambiguity and build better clarity in our work.
---
SPECIAL THANKS
Thank you to all who have made our work possible over the years and to everyone at Grand Studio who helped us turn the page on a new chapter. Today marks the next step in our journey!